is a combat veteran of the US

.

He is running for United States

in the state of

.
---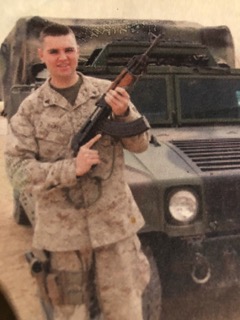 The Combat Veterans For Congress PAC is endorsing the 147th Combat Veteran For Congress in 13 years, Cpl James David Vance, USMC, who resides in Cincinnati, Ohio and served in the US Marine Corps for 4 years of active duty.  Cpl Vance is the Republican nominee in the 2022 Ohio US Senate election to succeed the two-term retiring Ohio Republican US Senator Rob Portman who announced that he would not seek re-election to a third term.  Cpl Vance is a Pro-Trump Conservative Republican who has stated he is running because the nation is headed in the wrong direction.  He is running for the US Senate against the 9-term Ohio Social Democrat Congressman Tim Ryan who has been supporting the Liberal Socialist Progressive agenda to change the US Constitutional Republic into a Socialist State.  
Cong Tim Ryan has voted along Socialist Democratic Party lines with Pelosi 98% of the time and has contributed to the irresponsible out of control spending by the Socialist Democrat controlled Congress.  He supports elimination of all private and business health insurance, to be replaced by government controlled Universal Health Care, at a cost of $36 trillion, or $232,258 per household.  Ryan will continue to oppose construction of a Border Wall to keep the massive flood of drugs, human traffickers, Illegal Aliens, and Radical Islamic Terrorists from entering the US; he voted to give 1.2 million Illegal Aliens the right to vote regardless of whether they have criminal records.  He voted to restrict gun rights granted by the 2ndAmendment.  He voted to increase taxes and increase the radical out of control inflationary spending.     
Ryan voted to support HR 5, the Equality Act, which eliminates civil rights protections for women and eliminates the Religious Freedom Restoration Act.  Ryan supports the "Green New Deal" with Socialist Rep Alexandria Ocasio-Cortez, at a cost of $93 Trillion, or approximately $600,000 per household, according to the non-partisan Congressional Budget Office.  Ryan voted for the dangerous Iranian Nuclear Weapons Agreement, which gave Iran, the largest state sponsor of terrorism, $150 billion in cash to fund its worldwide terrorist activities, and funded Iran's development of nuclear weapons and intercontinental ballistic missiles that can strike the US.  Now Furthering inflation, in the Iran nuclear deal, the Biden/Obama administration is providing an additional $12 billion to Iran, without informing Congress, and Ryan will not oppose it.
Cpl Vance is running to save the dream that is the America, that he fought for, and will continue to protect and defend the US Constitution, that he raised his right hand and swore to protect and defend in 2003.  He is a fiscally conservative candidate who will work to reduce the national debt, cut taxes, will work to unleash the economic growth in the private sector, and stimulate business investment to create jobs for Ohio residents.  He is an avid supporter of Law Enforcement, will fight to strengthen the US Armed Forces, will protect the Freedom of Religion, and Freedom of Speech guaranteed by the US Constitution.  He will defend traditional Family Values and will provide "true" representation for the average American voters in Ohio and in the Republic.  
Cpl Vance understands issues facing members of the US Armed Forces and will ensure they are cared for, while serving their country on active duty, in the military as reservists, and in their retirement years as Veterans.  Ryan will continue to turn their backs on forty thousand Veterans, who put their lives on the line to defend the Republic and are now sleeping on the street without free housing, free medical care, or free food stamps provided by Democrats for Illegal Aliens.  He strongly supports The Free Enterprise System, opposes Communist China's Marxist agenda which is a threat to the founding principles of the Republic, and will work to stop the out-of-control spending by irresponsible Socialist Democrat members of Pelosi's Marxist Caucus.  Cpl Vance will support securing the wide-open southern border, to prevent the entry of drugs, MS-13 gang members, terrorists, human traffickers, and the over 200,000 Illegal Aliens from 161 countries who are entering the United States each month.  
James David Vance was born James Donald Bowman on August 2, 1984, in Middletown, Ohio, the son of Bev Vance and Donald Bowman; his family has a history of military service.  During World War II, his uncle, Samuel T. Blanton and great grandfather, Blaine Blanton, both served in the US Navy in the Pacific Theatre and in Japan.  His paternal step-grandfather, Joe Shepherd, served in the US Army in Korea.  Two of his first cousins enlisted in the Marine Corp, Rachel Vance enlisted in 1996, and Nathan Vance enlisted in 1997. 
His mother and father were divorced when he was a toddler.  James and his sister were raised in Middletown by his grandparents, James, and Bonnie Vance.  When his mother remarried, he went by the surname of his stepfather, James Hamel; until adopting the surname Vance in honor of his grandparents.  Vance was educated at Middletown High School, and he graduated in June 2003.  
While still in high school, in April of 2003, James enlisted in the United States Marine Corps at the Military Enlisted Processing Center (MEPS) in Louisville, KY.  He began basic training at the Marine Corps Recruit Depot, Parris Island, South Carolina on September 2003, completed boot camp training as Marine Rifleman on December 23, 2003, and he was promoted to Private/E-1.  In January 2004.  PVT Vance was transferred to Camp Lejeune, NC for Marine Combat Training; he completed training on February 28, 2004.  
In March 2004, PVT Vance was transferred to Fort Meade, MD for Public Affairs training at the Defense Information School and was promoted to Private First Class.  In July 2004, PFC Vance was transferred to Marine Corps Air Station Cherry Point, NC and was assigned to the 2nd Marine Aircraft Wing to provide Public Affairs support. 
In August 2004, PFC Vance deployed to Haiti from Cherry Point as part of the UN Peacekeeping Mission.  The contingent of fewer than 100 US Marines landed in Port-au-Prince, to restore order after Jean Bertrand-Aristide resigned as president and left for exile in Africa under pressure from a rebel uprising.  The Marines took up defensive positions around the capital's airport to prepare for the arrival of French forces and additional American forces.  The Marines mission in Haiti was five-fold: to secure the capital, assisting in the delivery of aid, protect U.S. citizens, repatriate migrants who tried to flee to the United States and prepare the way for a multinational security force of 300 personnel to restore order in Haiti.  The US Marines were withdrawn in November 2004, and PFC Vance returned to the US Marine Air Station Cherry Point, NC.
In August 2005, PFC Vance departed Cherry Point and deployed in support of Operation Iraqi Freedom; he arrived at Al Assad Air Base.  Because of his Public Affairs assignment, he spent time rotating to various forward bases controlled by US Marine Combat Forces rotating to Al Taqaddum, Al Qaim, and Al Ramadi forward bases.  In September 2005, PFC Vancewas promoted to Corporal.  His assignments included escorting civilian media representatives in theatre, while reporting activities of forward deployed Combat Marine personnel.   
Cpl Vance provided security for Iraqi poll workers during the Iraqi Constitutional Elections in October 2005.  He also provided security for poll workers during the Iraqi Parliamentary Elections in December 2005.  In March 2006, Cpl Vancereturned to Marine Corps Air Station Cherry Point where he served until September 2007, at which time Cpl Vance was Honorably Discharged after serving four years of active duty.  Cpl Vance military awards include the Navy and Marine Corps Achievement Medal, Sea Service Deployment Ribbon, Iraqi Campaign Medal, Global War on Terrorism Service Medal, Letter of Appreciation (5th award), Meritorious Mast Certificate of Appreciation, and various Campaign and Service Medals.
JD Vance later graduated summa cum laude from Ohio State University with a Bachelor of Arts Degree in political science and philosophy in June 2009.  After graduating from Ohio State, JD Vance earned a Juris Doctor Degree from Yale Law School in June 2013.  After working briefly at a corporate law firm, JD Vance moved to San Francisco in 2014 to work as a principal at Peter Thiel's Venture Capital Firm, Mithril Capital. 
In 2016, Harper published his book, "Hillbilly Elegy".  It was on The New York Times Best Seller List in 2016 and 2017.  It was a finalist for the 2017 Dayton Literary Peace Prize and winner of the 2017 Audie Award for Nonfiction.  The New York Times called it "one of the six best books to help understand Trump's win," The Washington Post called him the "voice of the Rust Belt."    
In December 2016, JD Vance indicated that he planned to move to Ohio to start a nonprofit, and potentially run for office, and work on combating drug addiction in the Rust Belt.  In 2017, he joined Revolution LLC, an investment firm founded by AOL cofounder Steve Case, as an investment partner, where he was tasked with expanding the "Rise of the Rest" initiative, which focuses on growing investments in under-served regions outside Silicon Valley and New York City tech bubbles. 
In January 2017, JD Vance became a CNN contributor and moved to Columbus, Ohio.  In April 2017, Ron Howard signed on to direct a film version of "Hillbilly Elegy"; the full-length feature film was released in select theatres and Netflix in November 2020; the film starred Owen Asztalos and Gabriel Basso as Vance.   In 2019, JD Vance moved to Cincinnati and co-founded Narya Capital, with financial backing from Peter Thiel, Eric Schmidt, and Marc Andreessen.  In 2020, he raised $93 million for the firm.  He has also invested in Rumble which is a competitor to YouTube.    
JD Vance has been endorsed by President Donald J. Trump, Donald Trump, Jr., Senator Josh Hawley (R-MO-Senate), Ohio Secretary of State Frank LaRose, Cong Jim Banks, Lt/USNR (R-IN-3), Cong Marjorie Taylor Greene (R-GA-14), Cong Matt Gaetz, Esq. (R-FL-1), Former National Security Advisor Robert O'Brien, Former EPA Administrator Andrew Wheeler, Former US Trade Representative Robert Lighthizer, Penny Nance - President, Concerned Women for America, Charlie Kirk, Ohio Veterans United, Combat Veterans For  Congress PAC, Ohio Right to Life.  
JD Vance is a member of the NRA, the VFW, and Buckeye Firearms Association.  JD Vance and his wife Usha of 7 years, and their three children Edwin age 5, Vivek age 2, and Maribel an infant child, are members of Saint Gertrude's Catholic Parish in Cincinnati, Ohio.
The Combat Veteran's For Congress PAC is pleased to endorse Cpl JD Vance, USMC who will bring to Congress extraordinary private sector skills and wisdom to better solve problems and represent the state of Ohio and the Republic.  If you review Cpl JD Vance's positions on his Web site, you will be pleased with his stands; they agree with the Combat Veterans For Congress Mission Statement.  We look forward to working with Cpl JD Vance and are pleased that a Combat Veteran of his caliber is running for the US Senate.  
If you have friends, associates, or relatives who know voters in Ohio, kindly pass this E-mail on to them and ask them to support Cpl JD Vance by working in his campaign, providing financial support for his campaign in any amount, and/or by networking with others who would be willing to support his campaign.  The military is one of the few remaining institutions producing the caliber of men and women needed to restore this nation to the greatness our Founding Fathers envisioned.  We have endorsed another Combat Veteran For Congress that General George Washington would have approved of.  A Veteran is someone who, at one point in his or her life, wrote a blank check made payable "to The United States of America" for an amount "up to and including his life."